Big news coming soon. But I can't talk about it yet.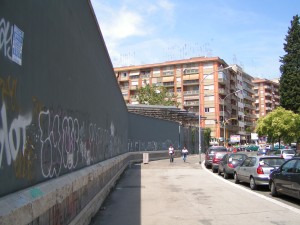 Instead, let me ask you this: How does a community–by which I mean people actually living in reasonably close proximity–communicate?
Yeah, I liked how those words went together too. But it's true. A community communicates, or it doesn't. And isn't.
I'm not sure there's any real way for it to happen right now. Online? Well, it's easier to talk to folks halfway around the planet than it is to say hey to a neighbor. In person? I guess you could get involved in local politics, if you don't mind its essentially coercive nature.There are clubs for adults and sports for kids, but it takes real effort to go beyond that and connect with people. Why does it need to be hard? Why does it take a special effort?
I'm asking you this because I really want to know. We're a much more mobile society than we used to be,which may mean we're less of a society and more of an aggregation. I don't know that it's such a bad idea to be this way, either, but I do think folks used to talk to their neighbors more than they do now.
Now, me? I'm more mobile than most. I enjoy the communities of like-minded people I've found online. I like the debates, and I like the constantly-shifting technology. But, you know, the last place I lived was…different. Almost nobody was online. People stopped to talk to each other in the streets. To put it mildly, the place was less than perfect. But now I find myself in the Washington DC area, and…people don't talk to each other. They barely acknowledge each others' existence when passing on a sidewalk (not that people are on sidewalks anyway).
So…is there something missing? Is there a way to get it back, or (more likely) to devise a new way to connect and interact? Maybe even with people who don't see things the way the same way we do?
Some days I think the interwebz are not much more than a giant echo chamber, where we all get to hear our own ideas parroted. There's some distortion, and it's fun to try to fix it, but…I think, amidst all the frenetic typing and ranting, we might also be getting just a little bit lazy.
Or maybe it's just me. Thoughts?